'It's meeee!' she squealed excitedly as we drove round the roundabout.
We manoeuvred round one more time so that she could get a closer look at the huge banner outside our local supermarket urging us to get organised for the new school term. This time we all squealed. 'It's yoooou!'
A third lap. Just for luck. Just to be sure our eyes could be believed, smiles stretched across every face in the car.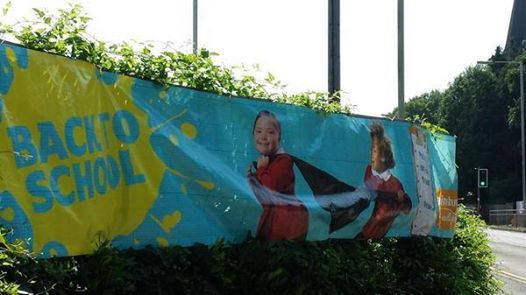 I fell silent as I fought back a tear or two, my heart swollen with pride as I allowed the true significance of what I had just seen to sink in. This was so much more than a Mum seeing her child's face on banners outside every Sainsbury's in the land. For Natty has Down's syndrome and this is the first time that a child with any kind of disability, physical or intellectual has featured in a major Back to School advertising campaign.
For me the posters might as well have shouted:

• All children have a right to quality education and the skills to enable them to lead full independent lives.
• All children have their own unique personalities and our classrooms benefit from that eclectic mix.
• All children, regardless of their abilities or disabilities, love a shiny new school uniform!
Gone are the distant stereotypes of children with Down's syndrome being deemed ineducable, 'despite the fact that it was only fairly recently in 1971 that it was recognised that children with a learning disability had a legal right to go to school.' (Downs Syndrome Association)
The message behind the link to education and schooling cannot be ignored. Yes, our children enjoy school, and often they are best suited to mainstream education where they put as much into their communities as they get back. Inclusion is a two-way street and all children benefit from that relationship.
Gone are the notions, in this country at least, of individuals with Trisomy 21, as it is also known, not being worthy of lovely clothes, of having to wear hard-wearing institution garments, of shameful regulation haircuts, of being 'put away and forgotten' as they were segregated from society in institutions.
No, here is a beautiful little girl like any other, and her cheeky face is actually selling school uniform today in 2014. And just writing that sentence has brought a lump to my throat. What a difference 33 years makes. Thankfully Natty is one of a team of children worldwide, from the USA to Australia who are providing role models for others with the condition, who absolutely need to see themselves represented in the media and advertising.
So the long expensive trips to London complete with overnight stays for castings and photo shoots were worth it. The hundreds of letters and emails to various companies asking if they would like to feature Natty in their marketing have paid off. I have done my little bit for change.
The impact on new parents cannot be underestimated either. Messages from those with a recent diagnosis or new baby with Down's syndrome have flooded in, saying just how much hope they have found within the images.
As far as 7 year old Natty is concerned of course this is a massive boost for her confidence, although she is no stranger to modeling and seeing herself centre stage. It is an important message that we set no limits on what she can achieve in life, just as we encourage her big sister in the same way.
Sadly, the fact that this story has hit the headlines is testament to the fact that we have far to go before our society becomes fully inclusive, before disability is no longer feared and seeing a different face of beauty is no longer surprising. That said Natty had a wonderful time taking ove the ITV Lorraine Show Studio. Watch her dispel a few myths about Down's syndrome here.
It's high time that real society was reflected fully on our screens. We see models of different sizes, ethnic backgrounds and sporting different looks. When will a model who is a wheelchair user become a non-noteworthy norm? Hopefully not too far on the horizon if campaign group Models of Diversity have their way.
Thankfully, Natty was chosen inspite of, not because of her extra chromosome. The supermarket chain have made little of their decision to include her amongst the other bright stars in the campaign, all chosen for their cheeky smiles and enormous personalities first and foremost. Natty was picked simply for being Natty.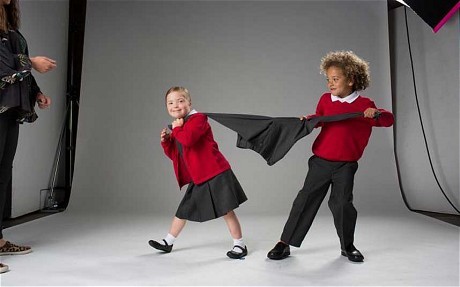 Natty, has fun at the photo shoot for the Sainsbury's Back to School campaign. A first for any child with a disability.
This too is precisely how we view our daughter, a fun-loving, cake-baking, water baby. An avid reader, a show-off, a sometimes annoying little sister. A unique and bright personality, just one of our gang, not a set of possible symptoms and predictions for her future. Yes, she has an extra chromosome and it is an important part of who she is, but it does not define her, it is just one aspect of her being.
And when I look at those leaflets currently plopping onto our doormat, I see that she is more alike the other children within their pages than she is different, albeit one with a subtle ground-breaking message for the world. And if we change the attitudes and perceptions of just one shopper, then we have achieved our goal.
A child with a disability modelling is still news